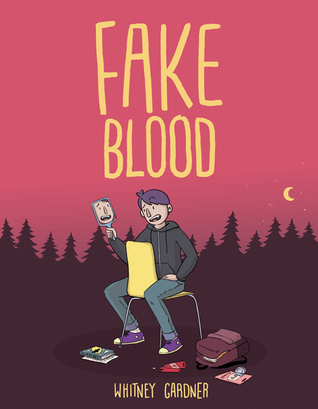 Fake Blood
by
Whitney Gardner
4 out of 5 stars on GoodReads
A.J. likes a girl.
A girl who is obsessed with vampires.
Conclusion: A.J. must become a vampire. Or at least, dress up like one.
Haha! I knew right away that this would be a funny graphic novel, and I was NOT disappointed! A.J. has a crush on Nia, and pretends to be a vampire to get her attention. But he gets the wrong kind of attention, because Nia dreams of becoming a vampire slayer, and comes after him with a stake!
Oh, I almost died laughing, this was so funny!
I loved the dynamic between A.J.'s two best friends. I loved the sweet flirtations between A.J. and Nia. I loved the colorful cartoony artwork. And I loved the hilarious plot and relatable characters.
But I especially loved the silly "Twilight" references hidden in the text and drawings. For example, A.J.'s middle school is named "Spoons Middle School". Haha! Get it? Because Twilight is set in the town of Forks.
A.J. even has to convince his friends that "Vampires don't sparkle!" when they want to cover him in glitter as part of his vampire disguise.
The only thing I didn't like was the ending. It was a little too Deus Ex Machina for me, and wrapped things up too cutesy and sweet. A little bit of a cop-out. Still funny, but could have been better.