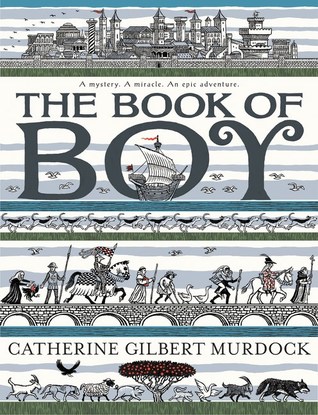 The Book of Boy
by Catherine Gilbert Murdock
5 out of 5 stars on GoodReads
A young hunchback goatherd named simply "Boy" is indentured as a servant to a shrewd pilgrim traveling through France in search of various relics of Saint Peter. As the two journey together, they boldly endure various adventures in their pursuit of the holy relics of Saint Peter, until they arrive at last within the holy city of Rome. Boy discovers that the pilgrim is hiding a dark past, and the pilgrim gradually reveals Boy's most closely guarded secret, his own true identity.
I really enjoyed the quickly moving plot, and the interesting medieval setting, but the best part of this book is Boy himself.
Boy is a shy, cowering young thing, afraid of being laughed at because of his hump. He is used to people throwing stones at him, calling him a monster, and making a sign of protection against him because his hump is considered bad luck. But as he learns to trust himself more, he discovers that the world can be a friendly place, and he stands up a little straighter, speaks more boldly, and acknowledges his true self. I loved his character development.
The plot really kept me engaged, interested in every page, because the story kept twisting and turning in new directions, with surprises around every corner.
I loved the history of the setting, and the medieval clothing, food, people, and culture. It all resonated and harmonized with Boy's journey and gave a richness and depth to the story.
I can't wait to read more from this author! I would recommend this book to readers from ages 9 to 90. Wonderful reading!
Disclaimer: I received a copy of this book from the publisher in exchange for a free and honest review. All the thoughts and opinions stated here are my own true thoughts, and are not influenced by anyone.